CMC Neoprene Brace for children. For support and / or correction of the cmc thumb joint. Available in blue, pink and black.
indications:
- Arthritis or thumb injury
- Misalignments joints (arthrogryposis)
- Spasticity
- Neurological or developmental
The brace should be worn during the day with periods of rest, without brace. The skin can therefore sufficient skies and dry. The brace provides support for the base of the thumb, and corrects the thumb position.
With neurological or developmental disabilities:
- Correcting the thumb position in front of the fingers (opposition). The brace guided in the same direction as the thumb pier.
- The neoprene is thin and covers the palm side minimum. The uses of the hand is thereby easier.
- In combination with a long strap palm may be more turned up (supination).
Customize: 2 methods
Method 1: after adjusting the brace, the sling is pulled through the back of the hand. The thumb is thus put more outward and backward. This makes it possible that the child can better use the thumb. The hook fasterner is attached to the thumb on the palm side.
Figure method 1: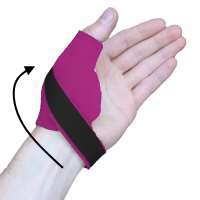 Method 2: By using this method, a left-hand brace applied for the right hand and a right hand brace for the left hand. This method follows the same manual as the McKie splints. After the adjustment of the brace, the sling is pulled out of the hand through the palm side. The hook tape is a little fixed put up towards the inside of the thumb via the outside of the thumb.
Picture Method 2: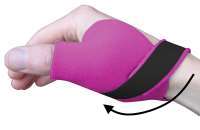 Dimensions: from outer thumb joint at center wrist.
size 1: 4.1 to 4.6 cm.
Size 2: 4.6 to 5.4 cm.
Size 3: 5.4 to 6.2 cm.
size 4: 6.0 to 6.9 cm.
size 5: 6.6 to 7.5 cm.
size 6: 7.2 to 8.4 cm.