North Coast Medical Comfort Cool brace thumb CMC
Being made of thin 1.6 mm perforated neoprene with a terry lining that helps keep skin comfortable. This splint gives support to the wrist for the following disorders: arthritis, tendinitis, or instability of the wrist. Available in black.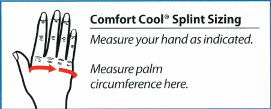 Smal: 15 tot 18 cm
Medium: 18 tot 20 cm
Large: 20 tot 23 cm
X-Large: 23 tot 25 cm

Plus sizes are a half size bigger in the hand and a full size larger in thumb circumference to accommodate enlarged thumb conditions.

Smal plus: 17 tot 18 cm.
Medium plus: 20 tot 21 cm.
Large plus: 21 tot 24 cm.

Guide Comfort Cool brace
Dat loslaten had ik ook, maar bij de Zeeman verkopen ze klittenband en ik heb er stuk vanaf geknipt op maat en op het versleten stuk gelijmd met secondenlijm. Dan gaat het weer maanden mee. Goede brace. 24 uur verzending. Goede webshop!
Draag de braces aan beide handen gedurende de nacht en veelal overdag.
De klachten zijn een stuk minder geworden, maar moet ze wel blijven gebruiken..
De sluiting werkt na enige tijd minder, laat los. Pluisjes weg geschoren maar grip is niet optimaal.